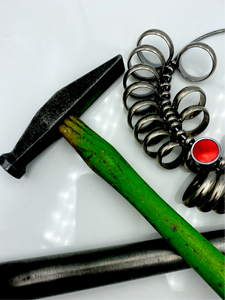 You've got the wrong size! 
Nooooooo.........
Jokes.. I got you! 
Just pop that baby in the post to me and I'll get it back to you with the perfect fit! Please note, there are different process' involved for resizing different style rings. I will always be fair with my pricing according to the labour. Please contact me first to discuss the right cost for resizing your piece. You can do this via email or the "contact" form on the home page.
Please leave your new size on check out with a brief description of your ring, or your original order number  
The resize fee does not include return shipping cost but will be selected by you on check out.
Please just be aware that resizing times can vary due to my current work load and can take up to 3-4 weeks which is the usual time frame for custom orders. I will do my best though to get them out ASAP! 
Halo & Hurt
P.O. Box 1345
West Sunshine 3020
Victoria
Australia